French air crash probe: 'no link yet' to sensors
Air France
Air France
in full Compagnie Internationale Air France

French passenger and cargo airline with more than 200 destinations in some 80 countries. It introduced supersonic Concorde service in 1976, but financial loss led the company to cease its Concorde
flight 447 has said it had yet to find
conclusive evidence
CONCLUSIVE EVIDENCE. That which cannot be contradicted by any other evidence,; for example, a record, unless impeached for fraud, is conclusive evidence between the parties. 3 Bouv. Inst. n. 3061-62.
pointing to faulty
airspeed
airspeed


Noun

the speed of an aircraft relative to the air in which it moves

Noun 1. airspeed - the speed of an aircraft relative to the air in which it is flying
speed, velocity - distance travelled per unit time
monitors as the cause of the disaster.
Speculation surrounding the doomed Rio to Paris flight, which crashed with the loss of 228 people on board, has focused on the Airbus A330's airspeed sensors, known as pitot probes, which may have malfunctioned.
"There is as yet no link between the pitot and the causes of the accident," said a spokeswoman for the Investigation and Analysis Bureau (
BEA
BEA - Basic programming Environment for interactive-graphical Applications, from Siemens-Nixdorf.
) leading the technical inquiry into the June 1 crash.
Air France's chief executive Pierre-Henri Gourgeon told reporters the devices would be replaced on all planes as a precaution, after the worst air disaster of the airline's 75-year history.
But he added: "I'm not convinced the probes were the cause of the accident."
Error messages
DOS and Windows error messages are listed individually in this database by the message that is displayed when they occur. See also DOS error messages and Application Error.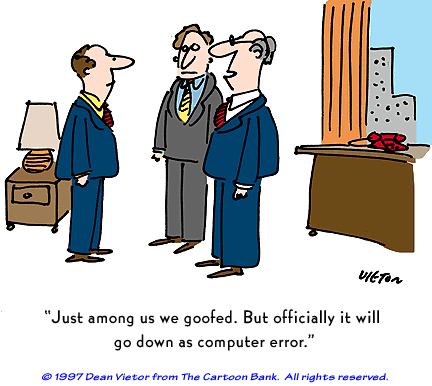 emitted by flight 447 in the minutes before the disaster have suggested that the twin-engine airliner's computers were receiving contradictory airspeed readings.
Investigators say this has been a factor in other incidents in which pilots had to battle to control Airbus jets, and aircrews worldwide have been warned to review their procedures in case of false speed measurements.
And a company report seen by
AFP
(1) (AppleTalk Filing Protocol) The file sharing protocol used in an AppleTalk network. In order for non-Apple networks to access data in an AppleShare server, their protocols must translate into the AFP language. See file sharing protocol.
Thursday, showed that Air France Airbus jets experienced at least five incidents last year in which airspeed probes malfunctioned.
"These are all serious incidents," said Guy Ferrer, an official from the Alter pilots union, which represents some Air France flight crews.
The BEA spokeswoman, however, said that agency director Paul-Louis Arslanian had said on Saturday that the team had yet to conclude that a
malfunction
mal·func·tion


v.
1. To fail to function.

2. To function improperly.

n.
1. Failure to function.

2. Faulty or abnormal functioning.
of the probe led to the plane's demise.
"Problems, and incidents, have been identified. We are studying them," said Arslanian.
"But that's not to say that without replacements a plane is dangerous and with them it isn't," he said.
Gourgeon confirmed that Air France had stepped up a plan to replace and
modernise
Verb 1. modernise - become technologically advanced; "Many countries in Asia are now developing at a very fast pace"; "Viet Nam is modernizing rapidly"
modernize, develop
the pitots in all its A330 and A340 long-haul jets.
"This programme has been accelerated because we know that during this accident there was a problem with measuring speed," he said.
"Airbus insists, and they're right, that the probes are safe. It's possible that icing incidents will be reduced with the new type of probes.
"Perhaps there won't be an improvement. We are talking with the crash investigators about this," he said.
Air France decided on April 27 to replace the pitot probes, but received delivery of the first improved models on May 27, less than a week before the crash. The doomed plane had not been updated.
"We began this programme because we thought it would diminish the number of non-catastrophic incidents," said Gourgeon.
The deep-sea hunt for the jet's black boxes intensified off Brazil, with a
tugboat
tugboat,

small, strongly built vessel, used to guide large oceangoing ships into and out of port and to tow barges, dredging and salvage equipment, and disabled vessels.
equipped with underwater listening devices joining a French nuclear submarine in the search.
If they find a signal, a mini-sub on board a French scientific ship will be deployed to recover the
flight recorders
flight recorder

Instrument that records the performance and condition of an aircraft in flight. Regulatory agencies require these devices on commercial aircraft to make possible the analysis of crashes or other unusual occurrences.
, thought to be key to explaining why the jet went down.
The Air France chief however said the chances of finding the black boxes in waters thought to be as deep as 6,100 metres (20,000 feet) were slim.
The
Brazilian navy
The Brazilian Navy (Portuguese: Marinha do Brasil) is the navy of Brazil. It is the largest navy in Latin America, with a 27,307-ton aircraft carrier, the NAeL São Paulo (formerly FS Foch
said on Thursday the bodies of three more victims had been retrieved, bringing the total to 44.
Brazil said it was determined to bring back to shore as many bodies and pieces of debris as possible from the crash zone, some 1,100 kilometres (700 miles) from the coast.
In Paris, the family of a passenger signed up as a civil plaintiff in a manslaughter probe to gain access to files on the crash, a lawyer said.
"What the families want is just some legitimate answers to their legitimate questions, such as: the plane sent out its last message at 04:10 am and yet no one wondered until 06:30 am why there was no news of the crew. Why is that?" said lawyer Sophie Bottai.
Two other French families have separately filed suit for manslaughter.